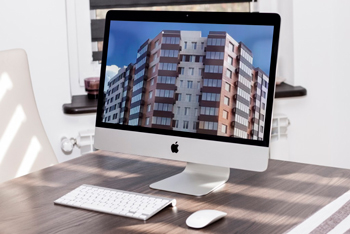 What are the features of the site developer?
How much can it cost?
How long does it take?
These 3 basic questions are of interest first. Everything depends on the site's capabilities, design features and the speed of approval of the proposed option.
I'll describe the main features, you can expand to infinity, it is very important to make a scalable system, and then add additional features as needed.
Main page.

Banners, with the ability to navigate through the link, usually a beautiful photo of the object.
Brief information about the object.
Hot deals. To make a listing of the most interesting proposals, or vice versa, those that do not go well, but you need to draw attention to them.

About us.

A detailed description of the company.
Feedback satisfied customers.

Catalog of objects (the name can vary, there may be apartments, townhouses, houses or plots).

Each object will have a button "order", when sending an email will come to your mail with information about the object that the buyer needs.

Images.

Albums for objects with the ability to go inside and see more.
Menu categories of objects.

Contacts.

Contact Information.
Interactive map where you are.
This is the simplest site-directory, but nevertheless completely revealing information about the company and its products. In the future, you can add an interactive selection of apartments when clicking on the house, simple apartment in 3D and many things, but there must be a foundation.
We have a website-directory with such features, a unique design, mobile version of the site, a tablet version, a mail and a hosting year as a gift, will cost 120,000 rubles and 1 month and 2 weeks for the implementation period.